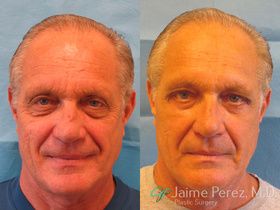 An eyelid lift, or eyelid surgery, is one of the most commonly performed cosmetic procedures in the United States. It is a relatively simple procedure that can remove excess skin and fat from the upper and lower lids, providing a refreshed, more youthful appearance to the upper face. Dr. Jaime Perez of the Plastic Surgery Center of Tampa has been performing eyelid surgery and eyelid lift procedures on patients in Tampa Bay, Clearwater, St. Petersburg, and abroad for over ten years in private practice. His unique skill lies in his ability to listen to his patients, deliver consistent, beautiful results, and to leave is patients looking rested, younger, and happy, not "done" or "pulled."
Ideal Patient
The ideal candidate for an eyelid lift or eyelid surgery has good eye health without symptoms of dry eyes. Ideal patients also have excess upper or lower eyelid skin and fat with good tone and normal position of the eyelid margins. Patients who have drooping eyelids or eyebrows may need procedures in addition to an eyelid lift or eyelid surgery to obtain optimal results.
Surgical Technique
Over the years, the technique of eyelid surgery and eyelid lifts has undergone many modifications. Traditional eyelid lifts focus on radical removal of skin and fat, often leaving patients with a "cadaveric," haggard, or aged appearance. Today's eyelid surgery techniques have evolved and now rely on conservative excision of skin, redraping or repositioning of fat rather than complete removal, tightening the lower eyelid muscles, and ensuring proper postoperative eyelid margin position. These advances decrease postoperative complications following an eyelid lift and increase patient satisfaction. Dr. Jaime Perez at the Plastic Surgery Center of Tampa practices only the most advanced techniques in eyelid lift surgeries and tailors each procedure to meet his patients' individual needs.
Depending on the complexity, eyelid surgery usually takes approximately one to two hours to complete and is performed in an outpatient setting, meaning the patient goes home the same day. An eyelid lift can usually be performed under local anesthesia with the patient awake, or with a light intravenous sedation. Unless other procedures are performed at the same time, most patients undergoing eyelid surgery do not need to be intubated or put under general anesthesia.
Recovery
Recovery from an eyelid lift is fairly straightforward. Many patients will experience bruising and swelling for up to a week. After a week, the majority of swelling and bruising will have subsided enough for the patient to be "public ready." During the first week following an eyelid lift, Dr. Perez usually recommends that his patients sleep with their head elevated to help speed resolution of bruising and swelling. Lubricating eye drops are often helpful during the first week postoperatively to relieve irritation. After five to seven days, any permanent sutures will be removed; after two to three weeks, patients may start massaging their scars.
Complications
Fortunately, most complications following an eyelid lift are minor and self-limiting. Prolonged bruising, swelling, and irritation of the conjunctiva are the most common, minor complications following eyelid surgery.
More serious complications following an eyelid lift include removal of too little or too much skin, cysts at the suture line, or eyelid malposition. Most of these complications can be corrected in a small, revisionary procedure performed under local anesthesia in an office setting.
Before and After Photos of Eyelid Lift and Eyelid Surgery
To see before and after photos of Dr. Jaime Perez's eyelid surgery and eyelid lift patients from Tampa Bay, Clearwater, St. Petersburg, and abroad performed at the Plastic Surgery Center of Tampa, go to the gallery section of this website.
We hope to see your before and after eyelid lift pictures in the gallery soon!