Mothers today are often expected to do it all...pack lunches, drive the children, coach soccer games, excite their husbands, and work full time. With so much time and attention devoted to others, a mother's sense of self and well being can get a little lost. Fortunately, modern women understand and are embracing the idea that having a positive self-image and improved self-confidence not only benefits them, but can actually improve their relationships with loved ones. With this new awareness and desire to take care of themselves, 325,000 women underwent mommy makeover procedures last year alone. Have you lost just a touch of your personal, youthful "sparkle?" Do you wish you could regain your pre-pregnancy body? Now is the time to get it back!
Dr. Jaime Perez at the Plastic Surgery Center of Tampa is one of the best cosmetic and plastic surgeons in the Tampa Bay area. With years of experience, he understands the needs and desires of today's mother's and is proud to offer the mommy makeover to his patients throughout Tampa, Clearwater, St. Petersburg, and abroad.
Mommy Makeover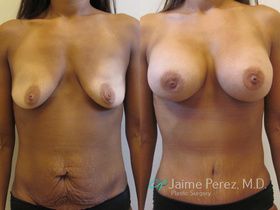 A mommy makeover typically includes any combination of breast augmentation or breast lift, tummy tuck, and liposuction in order to dramatically recontour the breasts, abdomen, and flanks, which are the areas of the body most effected by pregnancy.
Depending on the amount of remaining breast volume, excess skin, degree of sagging, and the patient's goals for breast surgery, Dr. Perez will recommend either a breast lift (i.e. mastopexy), breast implants (i.e. breast augmentation), or both (i.e. augmentation-mastopexy). Patients with larger, sagging breasts benefit most from a breast lift. Those with small, deflated breasts do better after breast enlargement with implants. Patients who desire to have larger breasts but also have a moderate degree of sagging usually must undergo a breast lift with simultaneous placement of implants.
Similarly, depending on the amount of abdominal and flank fat, muscle laxity, and quality of abdominal skin, Dr. Perez will recommend a tummy tuck, mini tummy tuck, liposuction, or most commonly, a liposuction tummy tuck to reshape the abdomen, hips, and flanks into new sexy, sweeping curves.
The benefit of combining plastic surgery of the breasts with a liposuction tummy tuck is that the breasts and entire truck can be contoured in one cosmetic surgery procedure, giving Dr. Perez the ability to best match the size and shape of the breasts to the newly created waistline, giving each patient a balanced, harmonious, and beautiful new figure.
See more real patient photos of the Mommy Makeover performed by Dr. Perez in Tampa.
Ideal Candidate
The ideal candidate for a mommy makeover is one who is healthy, has been at a stable weight for at least six to twelve months, is near his/her ideal body weight, and does not plan on future pregnancies. Additionally, any woman desiring a mommy makeover should have delivered her last child at least nine months before undergoing plastic surgery and should have finished breast-feeding at least six months before undergoing cosmetic surgery of the breasts.
Cost
The price of a mommy makeover varies throughout the United States depending on region and even throughout the Tampa Bay area. According to RealSelf.com, the average price of a mommy makeover in the United States is $12,500. The cost of a mommy makeover in the Tampa Bay area, including Tampa, Clearwater, and St. Petersburg, varies between $10,000 and $15,000. However, prices of a mommy makeover will vary depending on the complexity of each patient and the necessity of other simultaneous procedures.
Dr. Jaime Perez and the staff at the Plastic Surgery Center of Tampa understand that price is a concern for many patients considering a mommy makeover. We believe that cost should not deter anyone from obtaining plastic surgery and the body of their dreams and thus provide assistance with financing options through Care Credit (a company specializing in providing financing for cosmetic surgery procedures).