Blepharoplasty, also called eyelid surgery, offers you the opportunity to turn back time for a refreshed, more youthful appearance.
Men and women alike take advantage of this outpatient treatment that rejuvenates sagging, tired-looking eyelids that make you look older.
Dr. Jaime Perez at Plastic Surgery Center of Tampa pairs advanced techniques with an artistic eye for a natural, revived look.
Treatment Tailored to Each Patient
Dr. Perez, who has been practicing since 2000, brings more than rote training and high-tech tools to his cosmetic surgery patients in Tampa, FL. He also brings years of hands-on experience. Those years have allowed him to refine his technique so that it can be tailored to each patient's unique needs. As Dr. Perez explains, "Each patient that walks into my office has a different anatomy, different needs, and different goals; this must all be taken into consideration when deciding upon and executing a surgical plan."
Erase the Signs of Aging
With Eyelid Surgery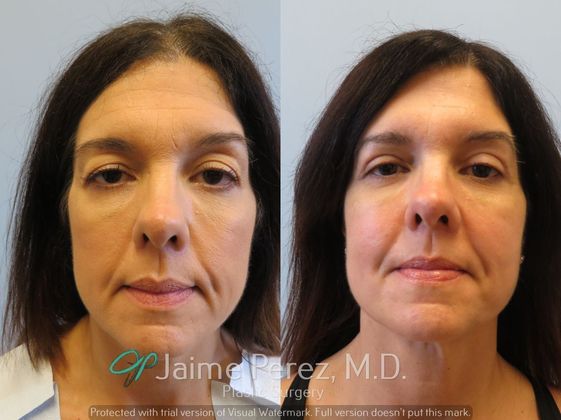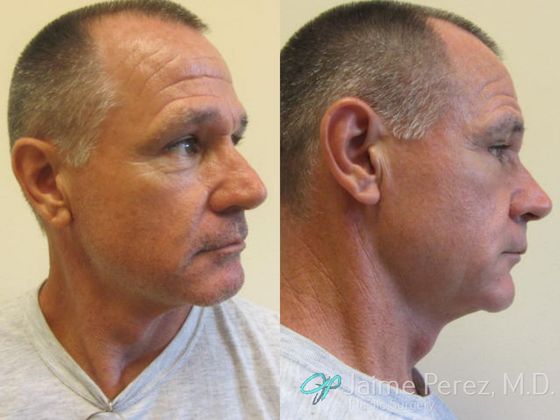 The eyes are one of the first areas to show the signs of aging, in both men and women. Eyelid surgery tightens the skin around the eyes for a more youthful appearance. Dr. Jaime Perez at the Plastic Surgery Center of Tampa practices only the most advanced techniques in eyelid lifts and tailors each procedure to meet his patients' individual needs.
20+ Years of Trusted Cosmetic Surgery
A Skilled Surgeon With an Artistic Eye
Experience & Expertise
Dr. Perez is double board-certified by the American Board of Plastic Surgery and the American Board of Surgery. He opened his Tampa, FL, practice in 2000 and has more than 20 years of hands-on experience in plastic surgery. He is also a Fellow of the American College of Surgeons, and a Clinical Associate Professor of Plastic Surgery at the University of South Florida.
A State-of-the-Art Accredited Surgical Center
Plastic Surgery Center of Tampa features an accredited, state-of-the-art surgical center that was designed from the ground up with patient safety and comfort in mind. Just like a hospital, our surgical center meets strict national standards when it comes to our operating room, surgical equipment, and our professional health care providers, including nurses and anesthesiologists.
Flexible Financing
If the drooping around your eyes impairs your vision, insurance may cover a blepharoplasty. However, if you are seeking eyelid surgery for cosmetic reasons, you will need to pay for the procedure yourself. For patients who are paying out of pocket, we can help make the costs more manageable with flexible financing through CareCredit® or Prosper Healthcare Lending.
An Artistic Eye
While technical expertise is a necessity in plastic surgery to achieve results that are both appealing and natural-looking, top-tier surgeons also need to have a profound understanding of aesthetics and human anatomy. As Dr. Perez says: "If you don't have a clear picture of what beauty is, it's very difficult to make beauty."
Are You Bothered by Sagging Eyelids and Bags?
Request a Consultation
If drooping eyelids and bags under your eyes are diminishing your enjoyment of life, request a consultation with Dr. Perez at the Plastic Surgery Center of Tampa. He has helped countless patients restore a younger, more attractive appearance while building their confidence at the same time.
During your consultation, he will carefully explain what can be achieved with a blepharoplasty so that you can feel confident in your decision. If alternative methods for facial rejuvenation are better suited to your situation, he would be happy to offer guidance on the best ways to achieve your goals.
Dr. Perez, a double board-certified cosmetic surgeon with two decades of experience, has a deep understanding of how each patient's own facial anatomy must be taken into account to achieve consistently beautiful results. Trust your care to a leader in the field. Request your consultation online or by calling:
Dr. Jaime perez is the 101% the best! My journey at Plastic surgery center of Tampa had been excellent and im very happy with everything. I adore his creations. I will always sugges! Thanks Doc!
View On Google
Dr. Perez was great. This was my first surgery of my life and I felt at home with the whole staff. Great experience.
View On Google
Nuestro equipo es bilingüe y está encantado de ayudarle a encontrar la autoestima que desea.
Types of Eyelid Surgeries
Traditional eyelid lifts focused on radical removal of skin and fat, which often left patients with a haggard, aged appearance. Dr. Perez, who
practices only the most advanced techniques in blepharoplasty
, takes a refined approach. He focuses on the conservative reduction of skin around the eye, repositioning fat rather than performing complete removal, and tightening the lower eyelid muscles. His meticulous approach includes ensuring the edge of each eyelid (the eyelid margin) retains its proper position. Depending on your goals, Dr. Perez can treat the upper eyelid, lower eyelid, or both.
Upper Lid
When muscles weaken and skin loses elasticity, the upper eyelid starts to sag. In some cases, the sagging can even impair your vision. To correct the problem, Dr. Perez removes excess skin, muscle, and sometimes extra fat in the upper lid. The incision is carefully hidden in the natural crease of the upper eyelid. Dr. Perez' years of experience and his artistic touch leave his patients looking rested and younger, not "done" or "pulled."
Lower Lid
Excessive sagging and bags under the eyes can be addressed with lower eyelid surgery. The procedure involves removing or repositioning excess fat, muscles, and sagging tissue. The incision is hidden in the natural creases just below the lashes or inside the lower eyelid.
How Much Does Eyelid
Surgery Cost?
Eyelid surgery at Plastic Surgery Center of Tampa typically costs around $4,000 for the upper eyelid and about $7,000 for the lower eyelid. Of course, each patient is unique. To get a quote that more accurately reflects your needs, please request a consultation.
Blepharoplasty Is Usually an Outpatient Procedure
Depending on the complexity, eyelid surgery usually takes approximately one to two hours to complete and is performed in an outpatient setting, meaning the patient goes home the same day. An eyelid lift can usually be performed under local anesthesia with the patient awake, or with light intravenous sedation. Unless other procedures are performed at the same time, most patients undergoing eyelid surgery do not need to be intubated or put under general anesthesia.
Upper and lower eyelid surgery can be performed at the same time so patients just need one recovery period.
Recovery from an eyelid lift is fairly straightforward. Many patients will experience bruising and swelling for up to a week. After a week, the majority of swelling and bruising will have subsided enough for the patient to be "public-ready."
"The best Plastic surgeon there is! My first and best experience with plastic surgery, thanks to Dr Jaime Perez and his team. He is truly an artist , listens and cares about your thoughts . He imagined better for my own body than I envisioned for myself. His staff is so wonderful , never making you feel like a bother , they listen to all your concerns. This was the best decision I ever made and I am so grateful to have been placed in the hands of Dr. Perez and his team."

Anonymous 5-Star Review