Cosmetic surgery of the ear and ear pinning is one of the oldest procedures used by plastic surgeons. In fact, the ancient Romans performed simple surgery of the ear as early as 100 B.C. Surgery of the ear and ear pinning often involves a set-back or "pinning" of overly protruding ears, straightening "floppy" or "lop ear," or reconstruction of traumatized, missing, or small ears. Dr. Jaime Perez at the Plastic Surgery Center of Tampa has been performing ear surgery and ear pinning on patients in Tampa Bay, Clearwater, St. Petersburg, and abroad for over ten years in private practice. Whether he is operating on babies, young children, or adults, his goal is to provide each patient with a symmetric, natural-looking, size-appropriate ear. Following ear surgery and ear pinning, Dr. Jaime Perez's patients are often able to wear eyeglasses more comfortably or to wear ear-revealing hairstyles that previously they felt embarrassed wearing.
Ideal Patient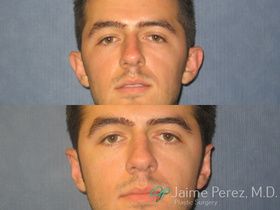 The ideal candidate for ear surgery or ear pinning is in good health, has realistic expectations, and wishes to decrease the projection or size of their ears, or to improved symmetry.
Many patients undergoing ear surgery for the first time are children with congenital ear abnormalities. The ideal timing for ear surgery or ear pinning in a child is about five to six years old. At this age, the ear is approximately 80% of its adult size, the child is reasonably able to follow postoperative instructions, and surgery at this time may prevent ridicule or social problems as the child enters school for the first time.
Surgical Technique
The technique of ear surgery and ear pinning has been greatly refined over the last fifty or more years. Traditional ear surgery focused on excision, removal, and breaking of ear cartilage (i.e. the delicate material providing the structural framework and fine detail of the ear). These overly aggressive techniques often left patients with sharply ridged, abnormal appearing ears.
Dr. Jaime Perez, like most modern ear surgery and ear pinning specialists, try to preserve the fragile ear cartilage when possible, and instead focus on suture techniques that bend and shape the ear cartilage. The method of cartilage bending and preservation decreases long-term complications, improves patient happiness, and provides a more natural looking result.
Depending on the complexity of the procedure, age of the patients, and need for additional, concomitant procedures, ear surgery and ear pinning can often be performed under local anesthesia or intravenous sedation, eliminating the need for intubation and general anesthesia. Ear pinning usually takes approximately two hours to complete and is performed in an outpatient setting, meaning the patient goes home the same day.
Recovery
Recovery from ear pinning and ear surgery is relatively simple. Most patients will experience moderate swelling and bruising of the ears for up to a week. During this first week, Dr. Jaime Perez usually recommends that his patients sleep with their head elevated to speed resolution of bruising and swelling. After approximately one week, the newly created intricate concavities and convexities can start to be appreciated. Patients are usually asked to wear a bulky bandage over the ears for one week, often followed by a "head-band" or pressure dressing for four to six weeks. Depending on location, sutures are removed at two to four weeks.
Complications
Fortunately, most complications following ear surgery and ear pinning are minor. The most common adverse finding following ear pinning, which is not even considered a complication, is slight asymmetry or recurrence of ear protrusion. Minor asymmetries can often be corrected in an additional small procedure performed in an office setting under local anesthesia.
Other, more serious complications include blood collections between the cartilage and skin of the ear, or infection of the ear cartilage itself. These less common complications must be treated in order to decrease permanent ear deformity. In an attempt to minimize and treat potential complications in a timely manner, Dr. Jaime Perez examines all of his ear surgery patients within one to two days following surgery.
Before and After Photos of Ear Pinning and Ear Surgery
To see before and after photos of Dr. Jaime Perez's ear surgery and ear pinning patients from Tampa Bay, Clearwater, St. Petersburg, and abroad performed at the Plastic Surgery Center of Tampa, go to the gallery section of this website.
We hope to see your before and after ear pinning and ear surgery pictures in the gallery soon!