What Is Labia Minor Reduction?
Labia Minor Reduction (Labiaplasty) is a surgical procedure to trim down and shape the inner lips (labia minora) of the vagina. The labia minora is the inner flap of skin that covers the clitoris and vagina. If you are considering labiaplasty surgery, contact Dr Jaime Perez Board Certified Plastic surgeon, to arrange for an office consultation.
Labiaplasty Candidates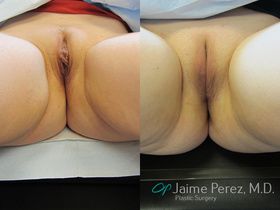 Candidates are women with enlarged vaginal lips that cause pain or self-consciousness. For example, a long labia may cause pain during sexual intercourse, exercise or even while wearing tight-fitting jeans. Fully developed young women and adult women who are in good health make the most appropriate candidates. However, women who have any underlying medical conditions that would limit elective surgery may not be good candidates
What to Expect During Your Consultation
The success and safety of your labiaplasty surgery depends very much on your complete candidness during your consultation. You'll be asked a number of questions about your health, desires and lifestyle.
Be prepared to discuss:
Why you want the surgery, your expectations and desired outcome
Medical conditions, drug allergies and medical treatments
Use of current medications, vitamins, herbal supplements, alcohol, tobacco and drugs
Previous surgeries
Your surgeon may also:
Evaluate your general health status and any pre-existing health conditions or risk factors
Take photographs for your medical record
Discuss your options and recommend a course of treatment
Discuss likely outcomes of the tummy tuck and any risks or potential complication
Questions to Ask My Plastic Surgeon
When consulting about labiaplasty surgery in the Tampa Florida area, it is important to be an active participant in the process. Use the following list of questions to ask about labiaplasty surgery during your consultation:
Use this checklist as a guide during your consultation
Are you certified by the American Board of Plastic Surgery?
Were you specifically trained in the field of plastic surgery?
How many years of plastic surgery training have you had?
Do you have hospital privileges to perform this procedure?

If so, at which hospitals?

Is the office-based surgical facility accredited by a nationally- or state-recognized accrediting agency, or is it
state-licensed or Medicare-certified?
Am I a good candidate for this procedure?
What will be expected of me to get the best results?
Where and how will you perform my procedure?
What surgical technique is recommended for me?
How long of a recovery period can I expect, and what kind of help will I need during my recovery?
What are the risks and complications associated with my procedure?
How are complications handled?
How can I expect my eyes to look over time?
What are my options if I am dissatisfied with the cosmetic outcome of my eyelid surgery?
Do you have before-and-after photos I can look at for this procedure and what results are reasonable for me?