Stubborn fat deposits that won't respond to diet and exercise can be frustrating and lead to low self-esteem.
Liposuction is a safe body contouring procedure that can remove your last few stubborn pounds of fat.
Jaime Perez, MD, in Tampa, FL, can perform your liposuction procedure to give you the silhouette you desire.
See the Impact Liposuction Can Have on Your Figure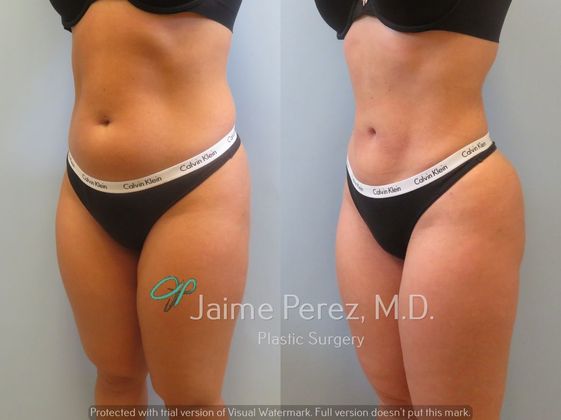 The Figure of Your Dreams Is Within Reach
OUR BOARD-CERTIFIED PLASTIC SURGEON CAN GIVE YOU THE RESULTS YOU WANT
Dr. Jaime Perez has been working on perfecting his liposuction techniques for over 15 years. He has an eye for detail and is one of South Florida's leaders in more innovative lipo techniques.
Our staff members at the Plastic Surgery Center of Tampa provide patients throughout the Tampa Bay area with plastic surgery procedures to help you feel more comfortable in your bodies.
If you want the beautiful and natural results you can receive from lipo, we want to hear from you. Contact us using our online form with any questions or call our Tampa, FL, practice:
"...I really wanted to remove my breast implants and replace them with fat grafting (obtained from liposuction of my thighs). I met with several world-renowned plastic surgeons in Miami, Louisiana, and New York, and they all told me basically the same thing: that removing my implants and replacing them with fat couldn't be done, or if it could, it would take 3-4 surgeries, cost about $50,000, and possibly look terrible. Thank god I finally met with Dr. Perez right here in Tampa. I was so nervous going into this surgery, but he took the time to really talk with me and answered all my questions over several visits. He was patient, explained everything in a way I could understand, and seemed to want to give me the results I wanted just as much as I did! His staff was also wonderful!...after the lipo, my thighs now look the way I always wished they had!..." Julia Perez, 2013, 5-Star Review
Am I a Candidate for Liposuction?
Because liposuction is not a weight-loss technique but rather a body-sculpting or body-contouring technique, the best candidates for lipo are people who are close to their ideal body weight, have good skin elasticity, and have specific areas of fat that are resistant to diet and exercise.
You may be a good candidate for liposuction if you:
Want to perfect your weight-loss results
Want to remove weight after pregnancy
Want a more curvy or chiseled appearance
How the Tumescent Liposuction Procedure Works
You will first have to visit our office in Tampa, serving the Tampa Bay area, for a consultation with Dr. Perez. This consultation will allow you to discuss your goals and determine candidacy for treatment.
Your liposuction procedure will involve several steps:
Our goal at the Plastic Surgery Center of Tampa is to provide each patient a compassionate, professional, and safe environment where they can feel comfortable discussing and learning about their desired procedures.

Dr. Jaime Perez
Depending on the treatment site, the entire procedure usually lasts about one to two hours. You can usually go home the same day as your procedure but may have to make arrangements for someone to drive you in case you're drowsy from the anesthesia.
We Offer Different Liposuction Techniques
IN ADDITION TO TUMESCENT LIPOSUCTION
Before the fat deposits can be removed, they must be broken down. There are several methods
Dr. Perez
can use to do this, aside from using a tumescent solution.
Recovering After the Procedure
Recovery times after liposuction vary, but patients are usually back to work in one to two weeks.
To make your recovery easier, take all antibiotics and pain medication as prescribed by your doctor and wear compression garments for about six weeks so your skin can heal properly.
How Much Fat Can I Remove?
In the state of Florida, no more than four liters (approximately eight pounds) of fat may be removed at one time in an outpatient setting. For large volume liposuction (i.e., greater than five liters), the patient is hospitalized overnight so they can be monitored.
"I am 6 weeks out on having a tummy tuck with liposuction and the whole experience with Dr. Perez and his staff has been amazing. He was very honest and thorough about the entire procedure. They all took the time to answer my questions with patience and understanding. I knew he was the doctor for me during my consultation when he took the time to understand why I wanted the procedure and reassured any doubts I might of had at that time. After two babies, two C-sections, and a stomach that was so stretched out with a huge amount of skin left over I never thought I would have a body like the one Dr. Perez created for me. I look better than I did weighing 120 in high school and I know it is only going to get better as I continue healing. I feel so much more confident in myself knowing I can finally wear clothes without having to worry about hiding my extra skin. Yes, it is a painful procedure but I would do it again in a heart beat!"

Candace Gargagliano, 2019, 5-Star Review