LIPOSUCTION, LIPOSCULPTURE, AND BODY-CONTOURING:
Ultrasonic, Laser, and Water-Assisted Liposuction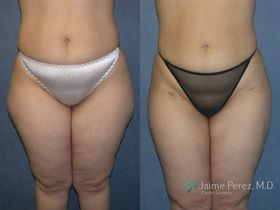 With the help of liposuction, one of the most popular plastic surgery procedures in the Tampa Bay area, now you can improve your look. Dr. Jaime Perez has been perfecting his techniques in liposuction for over fifteen years during training and private practice.
LIPOSUCTION
Liposuction is a surgical technique that plastic surgeons have used since the 1970's to remove local, unwanted fat deposits. The most commonly addressed areas of the body are the abdomen, flank, back, chin/neck, arms, thighs, and legs. Using a cannula (a long, hollow, metal instrument) and rubber tubing under negative-pressure, the surgeon removes the unsightly fat, permanently improving the over-all contour of the body. Because liposuction is not a weight-loss technique, but rather a body-sculpting or body-contouring technique, the best candidates for liposuction are those that are near their ideal body weight, have good skin quality, and have specific areas of fat that are resistant to diet and exercise.
Traditional liposuction techniques focused on general, non-specific fat removal from areas of excess without paying particular attention to the overall physique. Dr. Jaime Perez is one of South Florida's leaders in more innovative techniques including liposculpture and body-contouring. With these newer, innovative methods, he literally "sculpts" and sexier, curvier body by ensuring smooth, beautiful transitions between all body parts.
Prior to removal with standard liposuction cannulas, the areas of fat to be removed may be treated with ultrasonic waves (i.e. ultrasonic liposuction) (Vaser Lipo), lasers (laser-assisted liposuction) (Smart Lipo), or water (water-assisted liposuction) (Body Jet Lipo) to assist in emulsification (i.e. breaking up) of the fat. Following pretreatment, the fat must still be removed by traditional liposuction techniques. The use of these "pretreatment devices" is physician-dependent; their efficacy in improving liposuction results is still under investigation.
SURGICAL PROCEDURE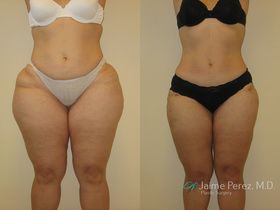 Liposuction is usually performed under general anesthesia, but in certain instances, small areas may be addressed under local anesthesia in an office setting at Dr. Perez's newly built Plastic Surgery Center of Tampa. Additionally, liposuction is usually performed on an outpatient basis, meaning the patient goes home the same day. In the state of Florida, no more than four liters (approximately eight pounds) may be removed at one time in an outpatient setting. For large-volume liposuction (i.e. greater than five liters), the patient is hospitalized over night for monitoring.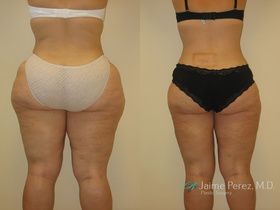 Immediately prior to surgery, Dr. Perez will mark the areas to be addressed during the procedure. Once in the operating room, these areas are injected with tumescence, a fluid containing both a local anesthetic (to relieve post-operative pain) and a vasoconstrictant (to decrease bleeding). To begin the surgery, a few, small, approximately 1-cm long incisions are made near the areas to be addressed, allowing introduction of the cannula. Next, the unwanted fat is suctioned away while he sculpts a new, beautiful silhouette. Once the desired shape has been achieved, the small incisions are closed and the patient is placed in special compression garments. The entire procedure usually lasts one to two hours with the patient going home the same day.
ULTRASONIC LIPOSUCTION
Ultrasound-assisted liposuction uses a cannula or probe to deliver fat-liquefying ultrasonic waves subcutaneously. This technique is primarily used to remove fat from thick, fibrous areas on the body such as the back or flanks, male breasts (i.e. gynecomastia), or during revision operations. Ultrasonic liposuction is associated with slightly higher risk of wound problems, and must be used with tumescence solution to prevent overheating.
LASER LIPOSUCTION (SMARTLIPO)
Laser-assisted liposuction (SmartLipo) uses a cannula with an attached laser light to liquefy fat cells. Once liquefied, the liquid fat is then removed through traditional liposuction incisions using standard liposuction cannulas. Manufacturers of these devices promote "skin tightening" and "decreased recovery time" as the main advantages; scientific studies have yet to show a clear-cut benefit for laser assistance in liposuction.
WATER LIPOSUCTION (BODY-JET)
Waster-assisted liposuction (Body-Jet) uses a cannula with an attached highly pressurized jet of water and/or tumescence solution to loosen fat cells from the surrounding connective tissue while simultaneously removing the fat and excess fluid with negative-pressure suctioning. Proponents claim there is decreased postoperative edema, decreased recovery time, and retrieval of intact fat cells that may be better suited for concomitant fat-grafting procedures. Further scientific studies are needed to validate these claims.
HIGH DEFINITION LIPOSUCTION
It seems that every day there is a new "break-through" in liposuction technology or technique. However, the basic principles of liposuction have changed very little since its beginning in the 1970's. To perform liposuction, the fat must first be "broken up" into small particles and then removed with a suction device. The unwanted fat can be broken up with a regular liposuction cannula, a vibrating cannula, a jet of water, ultrasound, and even a laser. However, the fat must then be removed with a suction cannula regardless of the type of liposuction performed. Over time, fluid has been added to the areas where liposuction is planned to make the surgery easier for the surgeon to perform, limit blood loss, and protect the overlying skin.
Though the tenets of liposuction have changed very little, the finesse with which liposuction is performed has changed greatly over the last few decades, and particularly over the last several years. Particularly, the advances in high definition (Hi-Def) liposuction have led to better patient results, a more natural looking result following liposuction, and overall, more patient satisfaction. 4-D High Definition Liposuction is a specific technique in liposuction surgery that actually sculpts the layers of fat over the body and muscles in order to create a more sculpted, defined look. Sometimes, fat is even added to areas where more bulk or volume would be attractive.
For men, Hi-Def liposculpture often consists of outlining the pectoralis, abdominal, oblique, and even deltoid, bicep, tricep, latissimus, and strap (lower back) muscles by performing aggressive liposuction in both the deep and superficial layers of fat at the edges of these muscles. In areas where the appearance of fat needs to be reduced, liposuction is only performed in the deep layer of fat. Additionally, for men that would like to add bulk to a given muscle group, fat can then be injected in the deltoid, bicep, tricep, pectoralis, gluteal, and even quad muscles. This complete attention to detail results in a chiseled, sculpted, and natural result.
In women, 4-D high definition liposuction is often performed to highlight the abdominal muscles, make the hip bone more prominent, and create lower back dimples (i.e. the dimples of Venus). Some women also choose to sculpt their arm muscles and/or add fat to the breasts, buttocks, or hips.
For best results, high definition liposuction must be performed by a technically skilled liposuction surgeon that also has profound knowledge of human anatomy and an eye for detail. Some plastic surgeons that perform Hi-Def lipo choose to use Vaser (i.e. ultrasound) assisted liposuction while others prefer power-assisted liposuction (i.e. vibration) and others use standard liposuction cannulas. Whatever the device, Dr. Jaime Perez in Tampa, FL provides his patients with the most beautiful, sculpted, and natural results possible. Whether your dream body is soft and curvy or sharp and chiseled, Jaime Perez, M.D. at the Plastic Surgery Center of Tampa can help you reach your goals!
POSTOPERATIVE CARE
Recovery times vary, but patients are usually back to work in one to two weeks and wear compression garments for six weeks postoperatively. Antibiotics and pain medicines are usually prescribed following the surgery.