Neck Lift Surgery Tampa Bay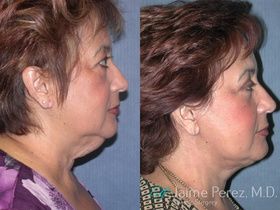 Despite the many advertisements to the contrary, no amount of exercise, lasers, or fillers can adequately treat an aging, sagging neck with excess, inelastic skin. For this reason, many of Dr. Jaime Perez's patients throughout the Tampa Bay, Clearwater, and St. Petersburg area visit him at the Plastic Surgery Center of Tampa requesting a neck lift. Dr. Jaime Perez has perfected his neck lift technique, often incorporating it flawlessly with a facelift procedure, to rejuvenate and refresh the lower face of his patients. He uses the most advanced, least invasive, and short scar neck lift techniques available delivering consistent, beautiful, and elegant results.
One of the most distressing aspects of aging or losing a significant amount of weight is excess neck skin and loss of an elegant, sharply defined angle of the neck. This area of the body is particularly distressing because like the face, it is difficult to cover and is often associated with beauty, grace, and youthfulness.
Ideal Neck lift Patient
The ideal candidate for a neck lift is one who is in good health, has a moderate amount of excess skin and fat of the neck and lower face, and is at their ideal body weight. Most patients undergoing a neck lift are also undergoing concomitant procedures such as a facelift, mid-facelift, brow lift, or eyelid surgery. This combination of procedures ensures a natural-appearing and beautiful flow between the eyes, cheeks, lower face, and neck, and provides the optimal effect. Patients considering a neck lift have often lost definition of the angle of the jaw and neck, resulting in a "turkey neck" due to the normal aspects of facial aging or following significant weight loss.
Surgical Technique
The technique of neck lift has been greatly refined over the last fifty or more years, as have the techniques of face lifting and eyelid surgery. Less advanced neck lift surgeons may tighten only the skin of the neck and not address aging and sagging neck muscles or fat.
Modern, sophisticated neck lift surgeons, like Dr. Jaime Perez at the Plastic Surgery Center of Tampa, use a wide variety of modalities to address all areas of the aging neck. Liposuction is commonly performed to remove specific pockets of fat under the chin and jaw line. The muscles of the neck are tightened in the midline and sutured into a more youthful positioning via a small, minimally invasive incision hidden under the chin. Finally, excess, sagging skin is redraped and removed through a small incision hidden in front or behind the ear. This combination of procedures provides for a natural, long-lasting, beautiful result and perfectly angled neck.
Recovery
Recovery from a neck lift surgery is relatively straightforward. Most patients will experience one to two weeks of bruising and swelling. During this first week, Dr. Perez usually recommends that his patients sleep with their head elevated to speed recovery and hasten resolution of swelling and bruising. A bulky dressing is usually worn for several days, often followed by an elastic, compressive bandage for a week or more. Patients are usually able to attend social functions after three weeks and may return to full exercise and activity after six weeks.
Complications
Fortunately, most complications following neck lift surgery are rare and self-limiting. The most common adverse event following a neck lift, which is not even considered a true complication, is slight asymmetry or under correction. These issues can often be addressed during an additional procedure performed under local anesthesia in an office setting.
More serious complications include blood or fluid collection under the skin that must be drained in the operating room. Rarely, a branch of the facial nerve may be injured during a neck lift, resulting in a temporary weakness of one side of the lower face. If this occurs, facial nerve function usually returns without further intervention in three to six months.
Before and After Photos of Neck Lift Procedures
To see before and after photos of Dr. Jaime neck lift patients from Tampa Bay, Clearwater, St. Petersburg, and abroad performed at the Plastic Surgery Center of Tampa, go to the gallery section of this website.
We hope to see your before and after neck lift surgery pictures in the gallery soon!