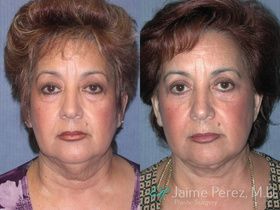 As you age, it is common, and often surprising and frustrating, to notice new lines where you previously had none. You may no longer have the long, elegant neck you had in your twenties and thirties. Your jaw line may have started to look a little saggy and your cheeks may appear to have fallen. While the aging process is unavoidable, there is something you can do about it, and no one ever has to know (if you don't want them to)! You can't stop the passage of time; however, Dr. Jaime Perez at the Plastic Surgery Center of Tampa can reverse the clock and help slow it down.
Whether you are in your forties and want a "maintenance lift" to retain a youthful appearance, are interested in a short-scar endoscopic facelift, have already had a facelift and need a revision, or are not sure what you need, Dr. Perez's delicate and innovative facelift techniques will leave you looking refreshed and youthful for years to come. Your face is the first thing people see; trust it to the best, trust it to Dr. Jaime Perez.
Facial Aging
The process of facial aging is multifactorial; it is not simply the cumulative effects of gravity on the face over a number of years nor is it directly proportional to chronological age. Facial aging is dependent on individual genetics and inherited features, lifetime sun exposure, overall health, a history of weight gain or loss, and many other factors. Additionally, the various tissues of the face show signs of age in different ways. The bones of the face lose volume over time because of osteoporosis. Facial fat decreases in volume in some areas (e.g. temples), increases in others (e.g. above the eyes, under the chin), and changes position (e.g. under eye bags), all of which contribute to the look of an aged face. The muscles of the face also decrease in volume and lose tone contributing to bags around the eyes, folds around the mouth and chin, and a sagging neck line. The skin of the face experiences a loss of thickness, clarity, and elasticity contributing to the appearance of wrinkles, folds, and a dull complexion.
The tell-tale signs of facial aging are wrinkles and folds. Static wrinkles (i.e. wrinkles that are present even when the skin is not being moved) are due to textural changes in the skin secondary to sun damage and the aging process in general. These wrinkles cause "crinkly" skin often seen on the cheeks, backs of hands, and chest. These wrinkles can often be effectively treated with facial peels and good skin care. Mimetic wrinkles (i.e. wrinkles present when the underlying muscles and skin is moved) are deeper creases caused by repeated facial movement and are perpendicular to the underlying facial muscle. Good examples of mimetic wrinkles are found on the forehead, around the eyes (i.e. crows feet), and around the lips.
Treatments for Facial Aging
These wrinkles are best treated with a combination of BotoxÒ, dermal fillers, and surgery. Folds, on the other hand, are a result of overlapping skin, fat, and muscle caused by genetics, muscle and skin laxity, and a loss of fatty and bony volume. Folds are most commonly seen surrounding the nose and upper lip (i.e. nasolabial folds), around the chin (i.e. marionette lines), above and below the eyes (i.e. puffy eyelids or bags under the eyes), and down the neck (i.e. platysmal bands). Folds can usually only be effectively treated by surgery that tightens and repositions all soft tissues of the face including skin, fat, and muscle.
History of Facelift Surgery
Plastic surgeons have been performing facelifts since the early 1900s. Due to a lack of understanding of the intricacy of facial aging, traditional facelifts were generally designed to only tighten the skin of the face and did not address muscle laxity or malposition of facial fat. This often resulted in an unnatural "pulled" appearance and required early revisions. Throughout the years, facelift techniques have been refined to address the underlying causes of facial aging, specifically muscle laxity and fat malposition. Today's facelift techniques are aimed at restoring facial tissues to their original position while utilizing smaller and smaller incisions with less down time. Dr. Perez is one of Florida's leaders in short scar and endoscopic facelift techniques that today's patients demand.
Facelift in Tampa - by Dr. Jaime Perez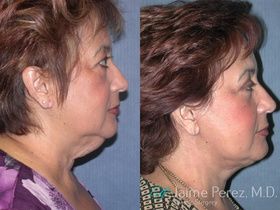 Facelift, or rhytidectomy, is the term given to a wide variety of procedures used to surgically rejuvenate the face by tightening the skin and sometimes underlying muscles and fat of the face. A facelift best addresses the signs of aging in the lower face, including the lower cheeks, jaw, and upper neck. The forehead, brows, and upper eyelids are best treated with a brow/forehead lift while the mid face and lower eyelids are best addressed with a mid facelift and/or lower eyelid surgery. These and other procedures are often performed in combination to provide a full, harmonious, youthful appearance. Depending on the individual, various well-hidden incisions, levels of dissection, and surgical techniques are used.
Because the process of facial aging is so complex and varies patient to patient, a plastic surgeon must first understand the aging process and be skilled at diagnosing the underlying causes of an aged appearance. Second, the surgeon must be able to communicate with patients and understand their goals for surgery. Thirdly, the best plastic surgeons must be skilled technicians and have a full array of surgical procedures with which to soften the signs of aging.

Dr. Perez has trained with some of the most well-respected facelift surgeons in New York and New Jersey; not only did he learn what those great masters had to offer, but he has continued to refine his techniques over ten years in private practice. He is not limited to a single routine operation that he offers to all patients. After careful evaluation and consideration he tailors each surgical plan to fit every individual patient's needs and is able to provide long-lasting, natural appearing facelifts.
Ideal Candidate for Facelift Surgery
Patients interested in facelift surgery are usually displeased with the appearance of their face as they have gotten older. Patients often complain of deepening of grooves or folds between the nose and upper lip (i.e. nasolabial folds), lines between the lower lip and chin (marionette lines), and a sagging jaw line or jowls.
Ideal patients are healthy, have medical problems like high blood pressure or diabetes under control, have no history of bleeding or clotting disorders, do not smoke, and are at a stable weight.
Facelift Surgery Considerations
Like all surgeries, there are certain known risks associated with facelift surgery. The most common complication observed in facelift patients throughout the United States are blood collections under the skin or muscle-fascia layer that require surgical drainage. This occurs in one to two percent of patients but is more common in males and patients with a history of high blood pressure, chronic coughing, or postoperative nausea. Thus, prior to any facelift surgery, all patients must have high blood pressure and/or chronic cough under control. Additionally, anti-nausea and blood pressure medications are usually given preoperatively to reduce the risk of postoperative nausea and dramatic changes in blood pressure.

Other less common complications encountered in facelift surgery patients is injury to the nerve that supplies the facial muscles or provides sensation to the face. These injuries occur in less than one percent of patients. When nerve injuries occur, the loss of facial movement or sensation usually returns in three to six months. It is also possible to encounter widened or irregular scars, wound healing problems, and infection, but this is exceedingly rare. Dr. Perez sees all of his facelift patients the day after surgery so that in the unlikely event there is a complication, it can be dealt with in a timely and efficient manner.
Postoperative Care - Facelift Surgery
Facelift surgery is usually performed under general anesthesia in an outpatient surgery center, meaning the patient goes home the same day. The surgery itself takes three to four hours, depending on technique. Patients go home with a big, bulky dressing and possibly a drain; all patients are examined the day after surgery and if a drain was placed, it is likely removed at this time. Most patients experience a significant amount of bruising and swelling after the surgery; however, this begins to decrease after one week to ten days and is usually down to a socially acceptable level by three weeks.