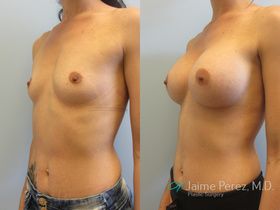 Breast augmentation is an enticing option for those wishing to enhance their décolletage. However, the fear of unsightly scars keeps many prospective patients from considering this surgical solution. Fortunately, there is a way to achieve beautiful results without noticeable scars – the transaxillary endoscopic approach.
Advantages of the Transaxillary Approach
This method of breast augmentation is the most popular choice at the Plastic Surgery Center of Tampa for many reasons. One of the most obvious advantages of this procedure is that the patient's scar is conveniently concealed in the crease of the underarm. This way, the scars are only visible if the patient raises her arms above her head. Even in this case, the scars are so small and well-positioned in the crease of the underarm that they are extremely discreet. In addition, going through a transaxillary incision ensures that there are no scars on the breasts that distract from the patient's result.
Precision Shaping with an Endoscope
Another unique characteristic of this procedure is the use of an endoscope. This instrument consists of a thin rod with a light and camera on the end that enables the surgeon to see a clear, magnified video stream of the inside of the breast pocket. Using this device, the surgeon is able to precisely and accurately create the perfect size pocket for the implant. A skilled surgeon such as Dr. Perez who is experienced with this method of breast implantation can precisely tailor the breast pocket to match the anatomy and desires of the patient. For example, subtle adjustments can be made to make the breasts sit higher, lower, farther apart or closer together in order to give the patient the exact look she wants.
Minimizing Risk and Recovery
In addition to its aesthetic advantages, the transaxillary endoscopic approach to breast augmentation offers several practical benefits as well. Instead of placing the implant in the breast pocket manually as is frequently done through a peri-areolar or inframammary incision, a funnel is used to squeeze the implant into the breast pocket via the transaxillary incision. This ensures that the implant touches neither the surgeon's hands nor the patient's skin. Thus, when the implant enters the breast pocket it is completely sterile which reduces the chance of infection. In addition, the minimally invasive nature of this procedure allows the patient to have a swift recovery. Dr. Perez reports that the vast majority of patients feel comfortable returning to work just a couple of days after surgery.
Performing breast augmentation through the transaxillary endoscopic technique creates gorgeous results while minimizing scarring and promoting a safe and speedy recovery. These benefits make this one of the most popular surgeries performed by Dr. Perez at the Plastic Surgery Center of Tampa. Contact us today for a free consultation and set up a plan for your beauty!