Popular Areas for Liposuction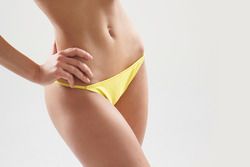 Liposuction is ideal for creating the curves and proportions that stubborn fat deposits distort. However, the treatment is not just a matter of removing excess fat. The technique requires technical skill and artistic talent to remove bulges while sculpting an attractive contour.
Plastic surgeon Jaime Perez of the Plastic Surgery Center of Tampa specializes in liposuction and is one of the few board-certified plastic surgeons in the area to perform the Brazilian butt lift and other advanced sculpting techniques.
Among the most popular areas for liposuction:
Abdomen - This is the most common area to be treated, probably because it is also the most notorious for accumulating fat. Typically, the upper and lower abdomen is treated at the same time to ensure a smooth result.
Outer Thighs - The "saddlebags" that plague women are a popular target for liposuction, as the curve of this area enhances a woman's silhouette.
Inner Thighs - Liposuction can create a small gap between the inner thighs and create a slimmer silhouette. Some patients need liposuction only on the upper inner thighs, while others need contouring of the entire inner thigh down to the knee.
Anterior Thighs - The front of the thighs is typically blended with the outer and inner thighs to create a smooth, balanced look.
Hips - This is the area below the waist and toward the upper, outer area of the buttocks. A skilled hand is necessary to sculpt a curvy feminine silhouette at the hips.
Buttocks - In many cases, it is better to liposuction areas around the buttock than the buttock itself, which can deflate and sag when fat is removed. Liposuction on nearby areas, such as the hips and thighs, can produce a more defined buttock. Going a step further, fat from pulled those areas can be purified and re-injected into the buttocks to lift and reshape them in a procedure called a Brazilian Butt Lift.
Waist / Flanks - Both men and women make liposuction in this region popular. Treatment here is aimed at removing "love handles" and "muffin tops" while defining the waist.
Back - "Bra rolls" are a common complaint and makes the back a popular liposuction target.
Upper Arms - Thick, flabby arms are associated with the stigma of aging, making "bat wings" a prime target for liposuction.
Neck - A full neck can make you look older and overweight. Liposuction slims the neck, making you appear younger and fit.
Chest - Liposuction is a solution for men who find their chest becoming fuller and flabbier as they age. Women may turn to liposuction of the chest as a form of "scar less" breast reduction surgery.
Calves / Ankles - Fat in this area is often genetically predetermined and resistant to diet and exercise. Though challenging, liposuction here can reshape the legs to create a smooth, continuous contour.
If you want to know whether you are a good candidate for liposuction, please call our offices. Dr. Perez is board-certified by the American Board of Plastic Surgery and specializes in body sculpting.
Related to This