Thigh Lift: Tampa, Clearwater, St. Petersburg, Sarasota, Naples, Palm Harbor
Despite the best weight loss program, rigorous exercise, and even the dreaded stair-master, it can be difficult, if not impossible, to firm up the inner and outer thighs. With aging and weight loss, even the most active men and women may be plagued by sagging, uncomfortable, embarrassing skin on their upper legs. If you've finally had enough and are ready to improve the appearance and proportions of your lower body, a thigh lift may be your answer. Dr. Jaime Perez is a board-certified Tampa plastic surgeon who has been performing precise, exacting thigh lift surgery for over ten years on patients from Tampa, Clearwater, St. Petersburg, Sarasota, Naples, Palm Harbor, and abroad. His gentle technique and aesthetic eye are able to restore almost any thigh to the firm, toned shape of its youth.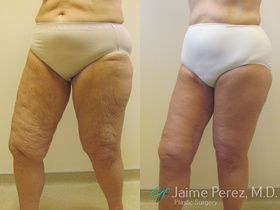 Thigh Lift

The thigh lift is a surgical procedure used by plastic surgeons since the 1950's to remove excess inner and outer thigh skin and recontour the upper legs. Traditional thigh lift procedures merely elevated and excised excess thigh skin through large, conspicuous incisions, did not secure or accurately reshape the upper leg, and paid little attention to the overall balance or harmony between the upper and lower body.

A better understanding of abdominal and lower extremity anatomy as well as improved surgical technique allow today's best plastic surgeons to perform tailor-made thigh lifts, individually suited to each patient's desires and anatomy. Dr. Jaime Perez is one of the leaders in body-contouring and thigh lift surgery throughout Tampa, Clearwater, St. Petersburg, Sarasota, Naples, and Palm Harbor. His goal with each thigh lift is to produce a sleek, firm leg through the smallest incision possible while ensuring long-lasting results. To accomplish this, he not only lifts and anchors the discretely placed incisions to the underlying fascia, he also may perform liposuction of the hips and flanks to produce a firm, well-balanced physique.

Ideal Candidate

The ideal candidate for thigh lift surgery is one who is healthy, has been at a stable weight for at least six to twelve months, is near his/her ideal body weight, and has an excess of thigh skin.

Patients who are still in the process of losing weight should postpone thigh lift surgery until after having reached their target weight. Additionally, patients who have experienced massive weight loss (either through diet and exercise or gastric bypass/banding procedures) may be better served by a lower body lift procedure that recontours the abdomen, back, lateral thighs, and buttocks rather than a standard thigh lift. Finally, patients with a history of smoking, heart disease, stroke, or blood clots may not be candidates for this surgery or, at the very least, may need to undergo preoperative medical clearance and smoking cessation.

Surgical Technique

A thigh lift is usually performed under general anesthesia on an outpatient basis, meaning the patient goes home the same day. The surgery usually takes three hours to perform but varies depending on the individual technique the patient and Dr. Perez decides upon.

Medial Thigh Lift - A medial thigh lift is ideal for patients with a moderate amount of sagging, excess skin limited to the upper one-third of the inner thigh. With this procedure, a horizontal incision, hidden in the groin crease, is used to remove the unwanted skin and contour the upper inner thigh. To provide long-lasting, durable results, Dr. Jaime Perez always resuspends the upper thigh tissues to the strong, fibrous tissue, Colles' fascia, that encircles the groin region. This extra step helps prevent future sagging of the newly sculpted thighs.

Vertical Thigh Lift - A vertical thigh lift is ideal for patients with a moderate to severe amount of sagging, excess skin affecting the entire upper inner leg, from the thigh to the knee. During a vertical thigh lift, an ellipse of excess, sagging skin from the entire inner thigh is removed through an incision extending from the groin crease to the inner knee. This scar is visible in patients wearing swimming suits, shorts, and skirts. Similar to the medial thigh lift, Dr. Perez also secures the newly positioned thigh tissues to the dense, inner thigh fascia to avoid postsurgical sagging.